If you are a person working in the field of automation or have a passion for robots, then surely you will know the concept of industrial robots, in this article I only mention robots used in industrial production, not robots. Not the cute robot Asimo of honda or the robots that appear in hollywood movies with the goal of invading the land!
You know industrial robots, you can imagine the images of large and small robots, 6-axis, 3-axis, scara, etc. robot arms operating automatically in the factory, but you have Ever wondered who is the father of industrial robots or the history of its formation and development? In today's post, let's find out.
What are industrial robots?
According to Wikipedia, Industrial robots, also known as Industrial Robotics, are robots used in industrial production. Industrial robots are automatic, programmable and capable of moving on two or more axes.
Typical applications of robots include use for packaging, product classification, for spraying paint in factories manufacturing car covers, airplanes, etc., for plastic injection technology, for loading and unloading, picking. goods, used in transportation, product relocation, automatic welding, applied in the foundry industry to pour molten metal, etc.
History begin?
George Charles Devol Jr. (February 20, 1912 – August 11, 2011) was an American inventor , best known for creating Unimate , the first industrial robot . Devol's invention earned him the title "Father of Robots".
The National Inventors Hall of Fame said, "Devol's patent for the first digitally operated programmable robotic arm represents the cornerstone of the modern robotics industry.
The passion of the young man Devol
In 1940, a 28-year-old boy named Devol began to notice the introduction of automation into factories.
In the early 1950s, Devol licensed its digital magnetic recording equipment to Remington Rand of Norwalk, CT, and became their magnetic division manager. Here he worked with a team to develop his magnetic recording system for business data applications.
He also worked on developing the first high-speed printing system. While the magnetic recording system proved too slow for business data, Devol's invention was reused as a machine control that would eventually become the "brains" of the Unimate robot.
Career turning point
In 1954, the idea for industrial robots was born when Devol met Joseph Frederick Engelberger, a businessman and man dubbed the "father of robotics", and convinced him of the potential of his idea.
In 1960, Devol succeeded in producing the world's first industrial robot called Unimate, the total amount spent on research and development of the first robot was 5 million USD.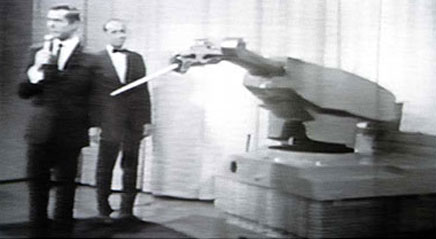 Unimate was born and has attracted the attention of American automakers, especially General Motors, a giant in the auto industry at that time who wanted to automate factories. That same year, Devol sold the first Unimate robot.
In 1961, the first Unimate Robot was shipped to General Motors. GM used this machine for the first time for processing molding and point welding. The first Unimate robot was installed at GM's Inland Fisher Guide Factory in Ewing Town, New Jersey , in 1961 to lift hot metal pieces out of the casting machine and stack them. Soon, companies such as Chrysler , Ford and Fiat saw the need to buy Unimate in bulk.
In 1966, after years of market survey and field testing, full-scale production began in Connecticut. Unimation's first production robot was a material handling robot and was soon followed by welding and other applications.
In 2005, Popular Mechanics magazine selected Devol's Unimate as one of the top 50 inventions of the past 50 years.
So we have learned about the history of formation and development of industrial robots, thank you for your attention.